They will love one of these Customizable Vintage look Sports Valentine Ideas, makes the perfect gift for valentines day.  Really cool Personalized Valentines Day Gifts for Sports Lovers.  CALL Zazzle Designers to create your special sports themed valentines day gifts and cards:  
[threecol_one]
[/threecol_one]

[threecol_one]
[/threecol_one]

[threecol_one_last]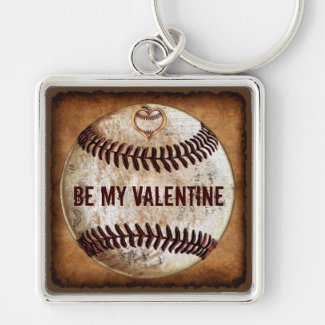 Customizable Valentines Day Presents for Boyfriend Keychain
[/threecol_one_last]


Football Valentines Day Gifts – Set of Lovers Football MugsBig Baseball Valentines Day Cards – CHANGE All Text to Your TextBaseball Keychains – Really cool and Practical Valentines Day Gifts Ideas
Football Valentines Day Card – Choose Big Football Valentines Cards or the Regular Football Valentines Day Cards
Baseball cards for a father to be will warm his  heart when he thinks about how the two of you (both  his wife and his baby that you are carrying) want to be his Valentine.  Pregnant Wife Valentine to Baseball Husband Poem written by Great Gramma Coley.
There's something deep inside me, Magnificent and new.
I love it, though I see it not, because it's part of you.
So if you think it'd be OK, Since it's both yours and mine,
Do you think the Two of Us could be Your Valentine
See this in this Baseball Valentines Day Cards or change the text to your poem or text. Delete the text if you prefer handwritten baseball valentines cards.
My very talented wife Linda, has earned the Elite Pro Designer status with Zazzle. We are so very thankful and grateful to all of our customers who have helped Linda earn the Pro Designer designation. 
 We really appreciate and want to Thank you for looking at our Customizable Vintage look Sports Valentine Ideas.
Click on Rod to See ALL of our Cool Vintage Sports Gifts