They will love one of these Custom Vintage Football Décor for Man Cave, the perfect Football gift for any occasion.  Personalized Football Senior Night Gifts.  Some of the coolest Custom Vintage Football Decor for Man Cave with your their Jersey Number, Name, Monogram or Text.  Boys Football Bedroom with faux vintage football decorating ideas. Great Football Gifts Ideas for Football Players and Football Lovers. PERSONALIZE IT or Delete it.  Custom Vintage Football Décor For Man Cave.  Choose from all different Blankets, Pillows, Clocks and so much more to, they will enjoy these unique football gifts for a life time.
CALL Rod or Linda at:  239-949-9090  to create unique faux vintage football decor design changes or help customizing.
SCROLL DOWN to see our Rustic Family Room * Call Rod and Linda 239-949-9090
Vintage Football Decor CLICK HERE
Custom Vintage Football Decor and Gifts
CLICK HERE to view ALL Vintage Football Decor and Gifts
Antique paper looking background that sets off the cool vintage football designs, these designs are breathtaking with breath taking looking décor designs.  Football Gifts and Decor for Boys and Men.  Makes the perfect Vintage Football gifts for football vans.  Custom Vintage Football Decor for Man Cave. Personalized Football Lovers gift ideas. They will love one of these football man cave gifts for sports lovers. Everyone from kids to adults will love receiving personalized gifts for Birthdays and more.  Football Gifts for football players, makes the perfect gift idea for the end of football season Vintage Football gifts.
Personalized Vintage Football Decor for Man Cave
Wood Football Wall Art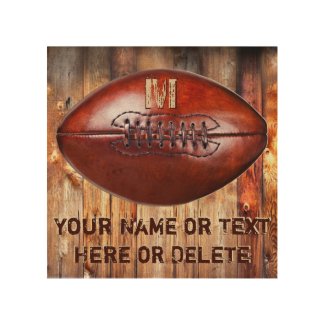 Wood Football Wall Art
 Vintage Football Throw Pillow
See our own family room photo below for color ideas and how to decorate a man cave ideas.
 Vintage Football Fleece Blanket
They will enjoy these Custom Vintage Football Decor for Man Cave, makes the perfect football gift. Guys love old football looking decor and will love their very own rustic football man cave room. A perfect football gifts for football lovers and for any occasion. I love the vintage looking football with the vintage looking antique paper background. It has such a warm feel. These faux vintage football man cave decorating ideas will warm up your masculine décor for him. All gifts are 100% money back guaranteed. Amazing detailed brilliant printing, what a great Football gift.
How to Decorate a Vintage Football Man Cave?
RUSTIC is the first word that comes to my mind.
Gray, tan, rusty tones and dusty greens and blues describes these original vintage football decorating ideas by, my wife, Little Linda Pinda
 A few ideas on How to Decorate a Man Cave
Typically, guys like the warm tone colors for their man cave.  Browns, Tans, Rusty Colors.  Rustic and Old are also popular choices for his basement man cave, maybe it's in the garage or he has his very own room.  My husband generally could care less about décor, BUT when it came to decorating one room in the house, just for him, he actually really cares.  He will love and enjoy one of these Custom Vintage Football Decor for his Man Cave.
We bought a rusty sleeper sofa.  I painted the room a warm soft taupe beige with a hint of orange to blend with the rust.  No, he is not into football, so his room is based on a different theme for which he has a collection.
If you don't have real wood, bring in some rustic real wood pieces or wall art.  Natural warm tones of wood lend itself nicely to football man decor or any cool man decor.
One of the biggest thing to remember when decorating a man cave is to make it his own. Add his favorite sports decor, colors and subject. Personalizing the room will make it more fun for him and the guys. Exciting and Cool man cave gift ideas with football theme or see our vintage baseball man cave gifts: 
CLICK HERE

for really cool Vintage Baseball Man Cave gift ideas
Click the Baseball for Vintage Baseball Pillows and Blankets 
We found some really nice used office furniture with a dark cheery and walnut finish.  We were lucky to find a home with Brazilian Cheery Wood Floors.  We have a man cave wall art to go with his theme and a rustic clock.  I love the room as well.  Custom Vintage Football Decor for Man Cave.
Linda's first love is light and bright Victorian Greek Ornate decor.  Her second love has always been Rustic Man Cave Decor.  Wow, what a difference. From the first home on,  decorate one room with warm rustic tones, sideways rough barn board like real wood paneling and a real barn beam for the fireplace mantel.  We had to debug it first because it was infested with so many insects but it was worth the wait.
Everything at Zazzle is 100% Guaranteed. Fewer than 1% Return Rate. AMAZING
If you love the look of Vintage Sports Decor, we have many other sports man cave decor ideas and gifts. Our vintage baseball man cave decor is so popular. Everyone of our sports designs can be placed on any of Zazzle's hundreds of gifts.  Makes the perfect football gift for football players or fans.
You don't have to stay with an all sports theme but in my opinion, you should stay in a certain color theme. For instance, if you decide to go with the rustic warm tones of the faux antique paper and rustic wood, I would not add bright white and red baseball decor, I would stay consistent with the warm tans, grays, brown tones.
Typically, vintage look designs have a more muted look. Brighter colors are often toned down with gray and brown tints to the red, green and blues.  Adding these muted colors to your sports themed man cave decor will add some pop without ruining the look and feel of the vintage football decor / vintage sports decorating ideas.
For more Sports Man Cave Decor and Gifts CLICK HERE
Thank you for stopping by our Vintage Football Decor article.  We hope you found some good football decorating ideas and gifts.  Custom Vintage Football Decor for the Man Cave. They will enjoy this vintage football decor, the perfect Vintage Football Gift ideas.
Besides cool man cave decorating ideas, these are perfect gifts for football players and football senior gifts. We can create templates for you to easily and quickly personalize each of the football gifts for each player or coach.
CALL Zazzle Designers Linda and or Rodney to create matching football man cave decor and football lovers gifts.    239-949-9090